Christchurch & North Canterbury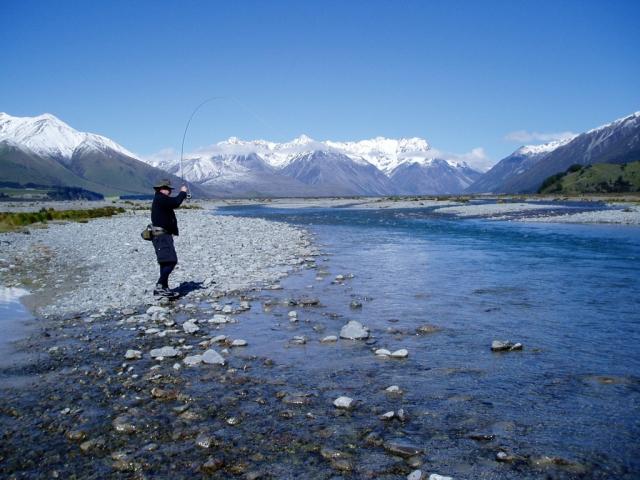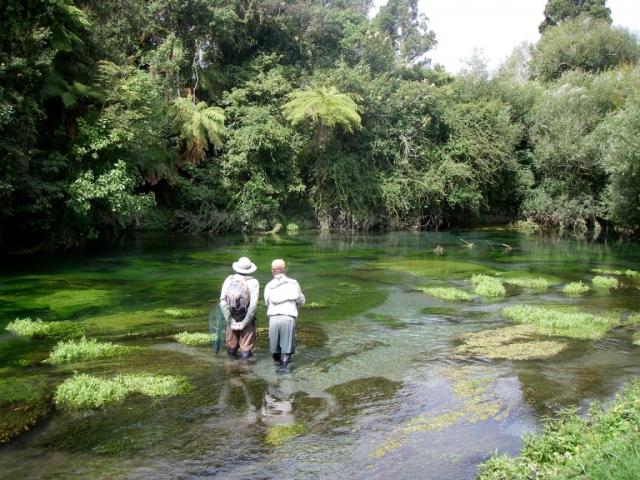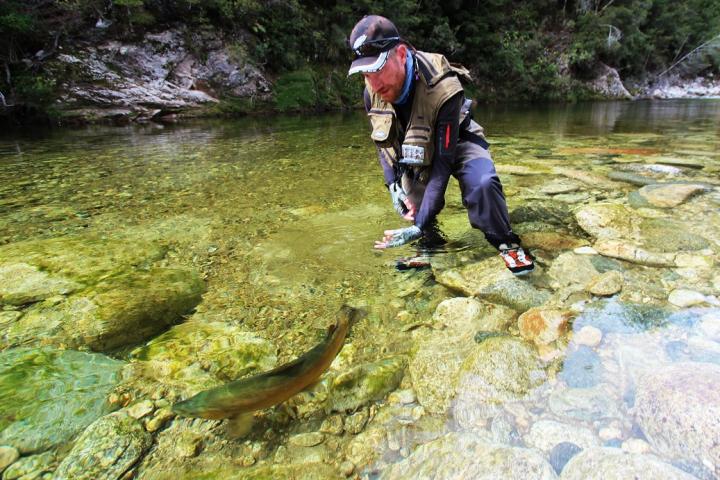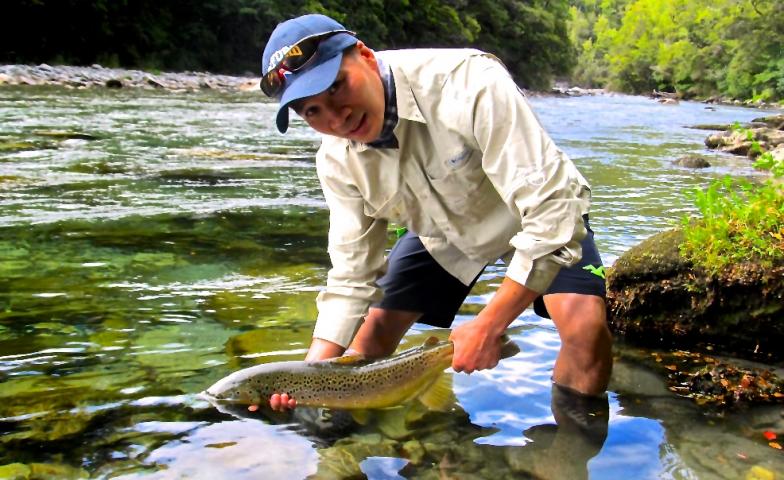 Reaching down the East Coast of the South Island from Kaikoura Southwards some large rivers rush towards the ocean from their Southern Alp headwaters. The Waiau, Waimakariri, Hurunui and Rakaia all provide excellent salmon fishing as well as a healthy population of rainbow and brown trout.
You can't talk about the North Canterbury region without mentioning some of their iconic freestone rivers. The Hope, Boyle, Doubtful and Lewis Rivers are all wonderful fisheries populated with large trout. The fishing isn't always easy, but the scenery and opportunity of landing a 10 lb + fish is always there.
All the members listed on this web site have the following vital accreditations:
Current first aid certificate
DOC Concession to guide on the DOC estate
Audited Health & Safety Plan
Public liability insurance
Chris Bell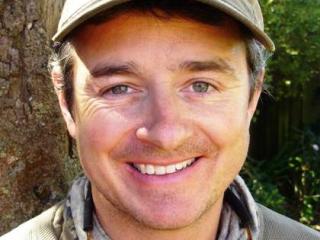 Chris owns and operates "South Island Adventure Fly Fishing" where he specializes in sight fishing for large Brown and Rainbow trout in the beautiful Canterbury and Westland regions of the South Island of New Zealand (NZ). He loves to add the element of adventure to his fishing guiding by accessing more remote waters, often by utilizing his 4WD vehicle. He guides a wide range of waters from small streams and spring creeks to larger freestone rivers, and offers exciting still-water sight fishing opportunities for large cruising Brown trout along shallow lake margins, both in Canterbury and on the West Coast.
Chris offers a combination of exciting and affordable Adventure Fly-Fishing Packages, and utilizes a variety of waters chosen to suit the sometimes varied physical abilities of his clients, in his quest to provide them with the fly-fishing trip of a lifetime. He is always prepared to travel to access exciting fishing locations in the often highly variable weather conditions that the South Island can seasonally experience, and provides a variety of tour options including complimentary pick-up from distant locations. He caters for anglers of all skill levels with quality fishing tackle and custom "Chris tied/designed" flies being utilized to provide every advantage to the client.
He wants a day out on the water with him to not only to be a successful days fishing but also to be an interesting and educational kiwi outdoor experience, as he likes to incorporate information about NZ wildlife, natural history and ecology. You will see his passion for the NZ outdoors come alive in his easy going, humorous and friendly attitude towards helping others to achieve their goal of catching some beautiful NZ trout. Chris's guiding business consistently utilises careful "Catch and Release" to help to protect existing wild fish population. Telephone: + 64 272 286 064
Contact Chris Bell
Serge Bonnafoux
A big change in the world of Covid-19 . I am now fully vaccinated against the virus.
Serge, also known as the Sight - Fly Fishing Expert has been a member of the New Zealand Professional Fishing Guides Association (NZPFGA) for the last 18 years. He is an experienced New Zealand and International fly fisherman who owes his expertise to travels around the world for the last 40 years, lengthy hours spent on his rivers trying new patterns, new rods and lines and looking at the situation in regards to fish movements and spawning activities. His passion for fishing took him to amazing destinations around the globe with Aotearoa New Zealand as his final destination.
His knowledge of the rivers, the lakes, the weather pattern, the rivers flow and the environment always prevails when planing your exceptional flyfishing trip.
He is based in North Canterbury in the alpine village of Hanmer Springs but travels extensively to the mighty West Coast of the South Island, even further if such is your interest. Serge specialises in sight fishing and will take you hunting (stalking) for big brown and rainbow trout on more than 40 rivers he has access to within 90 minutes drive.
Serge organises fly fishing trips from a day up to 12 days that are always fun and will leave forever special memories in your anglers mind. With Serge you will also enjoy the very best of a real fly fishing Kiwi adventure, where you will be exposed to the elements that make New Zealand so exceptional: the beauty of its nature, flora and fauna, with tussocks plains and mountains, but also the diversity of the waters you will fish: coastal rivers, alpine streams, freestone rivers, spring creeks even lakes if you are keen to stalk big brown trout on the edges or weed beds.
Beside his passion for fishing and nature, conservation and environment, Serge's background as a French Chef can complete your adventure after a great day on the river by gourmet meals, traditional cuisine he will prepare for you always from fresh ingredients.
Free pick up and drop off from Christchurch airport assure you of a relaxing time after a long flight without the stress of driving on the New Zealand roads. Whether it is North Canterbury , the West Coast, Central Otago, Nelson or Southland there is always a clear running piece of water where you will stalk the big brown trout or the rocket like rainbow.
Fishing gear and tackle from international acclaimed brands are also provided free of charge, as well as camping gear if you choose the most amazing experience to spend your nights by the river. If heli fishing sounds like a great opportunity to get to very remote areas off the beaten track Serge can organise it all for you.
You can contact Serge via his web site or call him on +64 21 211 3462 or +64 3 315 7499.
Contact Serge Bonnafoux
Ben Haywood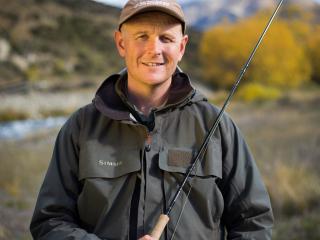 Let Braided Rivers Fishing Guides take you on a truly remote, authentic and memorable fly fishing adventure of a lifetime. Sight fish for large wild trout in the many crystal clear streams and rivers found in the Canterbury High Country and West Coast regions of the South Island. Both areas are renowned for their world class fly fishing and breath-taking scenery.
Braided Rivers Fishing Guides will take you off the 'beaten track' to access more remote waters and experience some of New Zealand's wild and unspoilt wilderness fishing. New Zealand's world class reputation is built on this most rewarding and enjoyable form of fly fishing. Single and multi-day road trips and back country walk in packages ensure anglers can explore a variety of premium fishing waters and have the flexibility to fish the best locations each day based on river and weather conditions. Heli-fishing trips can also be arranged.
Whether you are a beginner or an advanced angler, every fishing trip is individually tailored to the clients' needs and abilities by Ben Haywood, your experienced and knowledgeable fishing guide. Ben utilises his vast knowledge of local rivers, weather patterns and stream entomology to ensure his clients experience a once in a life time fishing adventure. Contact Ben at Braided Rivers Fishing Guides by phoning +64 22 32 33 966 or clicking the link below
Contact Ben Haywood
Jonathan Greensmith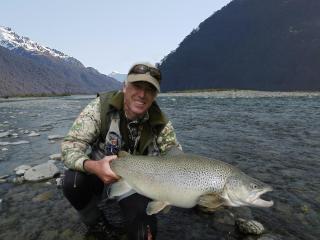 Fly fishing and fly tying since 1985, Jonathan became a professional guide in 1996. Known as an easy going guide he specializes in sight fishing for big browns in the small mountain streams and larger freestone rivers in the Hanmer Springs/North Canterbury area. As well as fly fishing, guided salmon trips are available during the summer runs. Phone +64 3 319 5888 / Post 1548 Inland Road, RD 3, Kaikoura 7373
Contact Jonathan Greensmith
Tom Hodge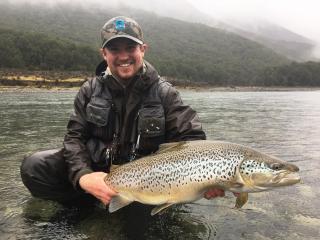 Tom Hodge is a South Island based fly fishing guide who owns and operates Epic New Zealand Adventures. Tom is based out of Christchurch and provides full day and multi day guided fly fishing trips right across the South Island back country.
Tom is a very enthusiastic and knowledgeable fly fishing guide who is very passionate about sight fishing to brown and rainbow trout through out some of the finest crystal clear back country rivers and streams the South Island has on offer. Tom also provides guided trips from beginners to more advanced anglers and he will always put you where you need to be to suit your skill level.To get in touch with Tom about booking your guided fly fishing trip please email him by clicking on the link below, or call him on +64 22 063 9453
Contact Tom Hodge
Neil Goldie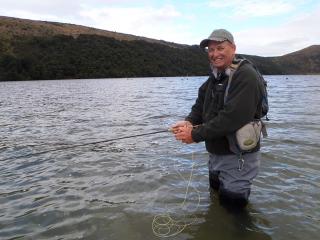 Neil Goldie is a trout and salmon fishing guide based in Christchurch which is located in the central South Island of New Zealand. Neil has been hunting, fishing and exploring the Canterbury and Westland wildnerness since the mid 1970's and has an intimate knowledge of the wildnerness fisheries and the East Coast sea-run trout and salmon fisheries. While Neil is a specialist flyfishing guide he also has a high degree of expertise in spin fishing and jigging for both trout and salmon. He specialises in sight fishing to large brown and rainbow trout in the rivers and lakes of Canterbury and Westland and caters for all experience levels of anglers, be they beginners or experts. Neil provides licences,lunches,light refreshments,4 wheel drive transport and can provide quality equipment such as G Loomis rods,Shimano reels,Simms waders and wading boots should clients require them. Fishing is available during the main season which starts on 1 October and ends on 30 April and the winter season which start on 1 June and ends on 30 September each year. Telephone: +64 27 210 2438
Contact Neil Goldie
Hannah Clement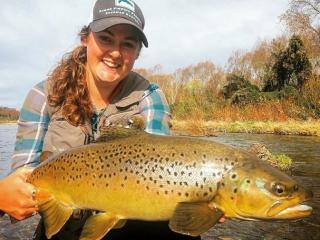 Hannah is a South Island based fishing guide who owns and operates She's On The Fly guiding and provides single and multi day trips right across the South Island. Hannah is a knowledgeable fly fishing guide who has an infectious enthusiasm about all things fly fishing. Hannah will take you to some of the most stunning surroundings the South Island has to offer while sight fishing to the ever elusive brown and rainbow trout.
Hannah loves to see your fishing dreams become reality while enjoying the New Zealand fly fishing at its finest. She strives to provide the best in both the fishing and your over all enjoyment and will always try to see the fun side of things. To get in contact with Hannah and start planning your fly fishing experience please click on the link below or phone +64 21 192 0442.
Contact Hannah Clement
Jason Shortland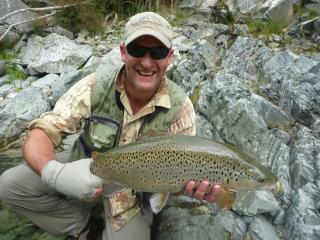 Born and raised in Canterbury I was always drawn to water. In fact dad always thought I was part fish. I grew up on the banks of a local river where my grandparents owned a family batch. As a young fella I would often watch grandad and his mates casting dry flies to large brown trout. Grandad's love and respect for rivers was infectious and fly fishing soon became an obsession for me too.
Over 35 years I have gained extensive knowledge of local streams, rivers and lakes. The Canterbury region offers a multitude of angling opportunities from stalking mountain streams to streamer fishing for sea run trout. I have been guiding professionally since 1999 and I feel privileged and proud to every time I take people into the New Zealand backcountry and hunt out fine brown and rainbow trout.
Contact me via email or Cell-phone : +64 27 340 7812
Contact Jason Shortland
Martin Langlands
I have been a full time fly fishing guide since 1991 and have been involved in fly fishing as a career since 1985, most of my working life. With over 2900 professional guide days in South Island NZ it's this extensive experience I draw upon to make your guided trip the best it can be. The knowledge gained from my experience helps overcome the challenges from the South Island's ever changing weather and water conditions. My friendly, respectful, highly innovative and informative approach aims to efficiently maximize your fly fishing experience, enjoyment and precious time.
A wide range of waters are chosen to suit your requests, experience and fitness level. These include Spring creeks, Limestone streams, Wild freestone rivers, Small streams, Coastal lagoons, Meadow creeks, Lakes and Backcountry rivers (these are a real passion of mine). I specialize in sight fishing for larger Rainbow and Brown Trout, some of the best quality in the South Island. I also can at times target Canterbury's legendary Searun Brown Trout that can be massive! Importantly all levels of anglers are catered for with a real focus on customization to suit your angling preferences and budget. Trips are often based in small country towns that are well serviced and strategically placed near great waters to give you the best possible fishing at the time, lessening wasted travel times and to give you a true and memorable Kiwi experience. We also enjoy camp outs, cabins, huts or farm accommodation for more remote trips . Access is mainly via 4x4 and walking, helicopter trips can be arranged on request.
Sharing my deep passion for NZ ("Kiwi") ecology, culture, and natural history with clients adds interest and fun to the guide day. Integral to my guiding operation is my fly tying business. As a lifelong professional fly tier and trout fly designer you will be using some cutting edge, unique and effective patterns along with innovative rigs and approaches that you can take forward in your angling path. As a guide, I take pride on being highly organized, paying attention to detail, achieving the best possible result for every guide day, and living by the motto "I am only as good as the day in front of me "
Top quality fishing gear is supplied at no charge. Creative filming and video of your trip is included { I have produced several educational DVDs available on my web site.
To sum up ...Family Friendly Guiding for all ages and levels. Single day trips through to multi day road trips. Extreme adventure angling. Large Brown Trout specialist. Telephone:+64 21 201 7049
Contact Martin Langlands