Southland & Fiordland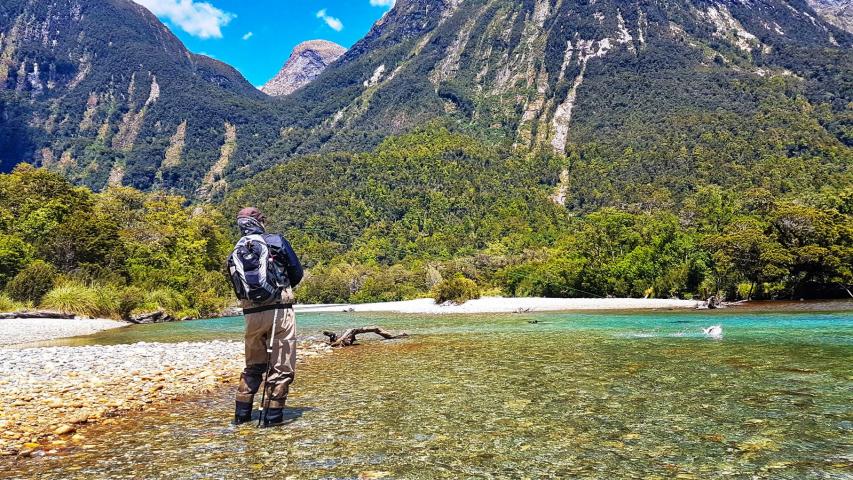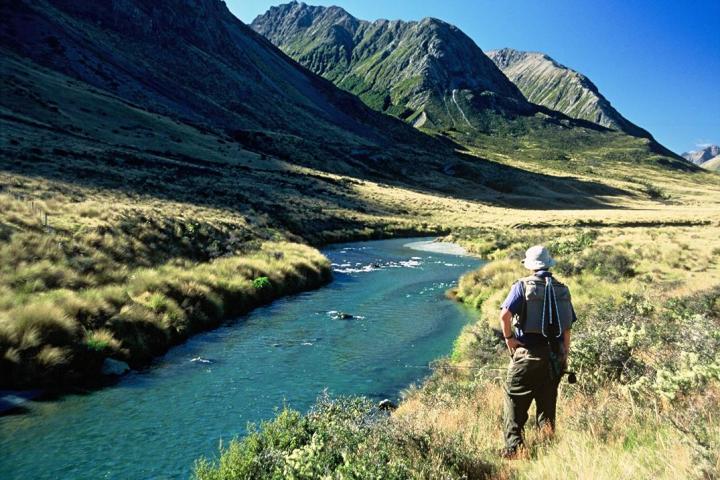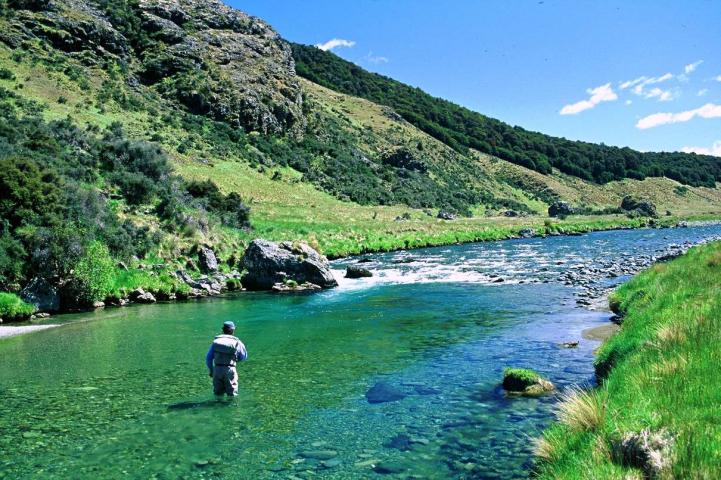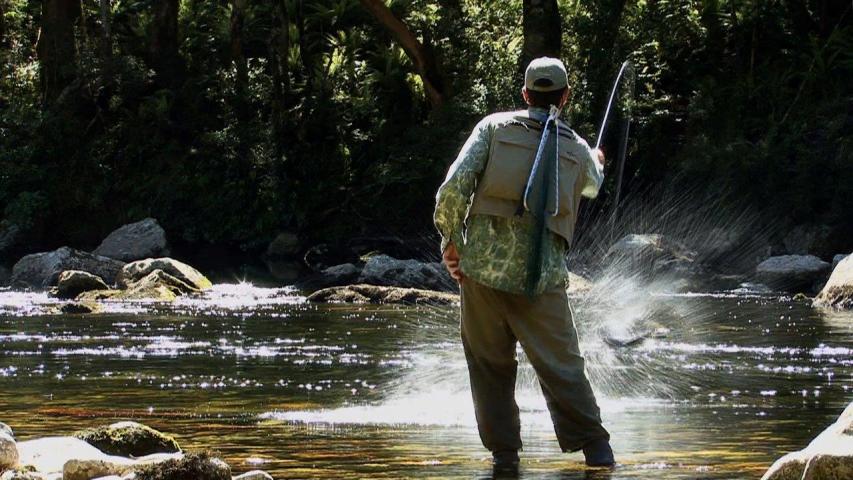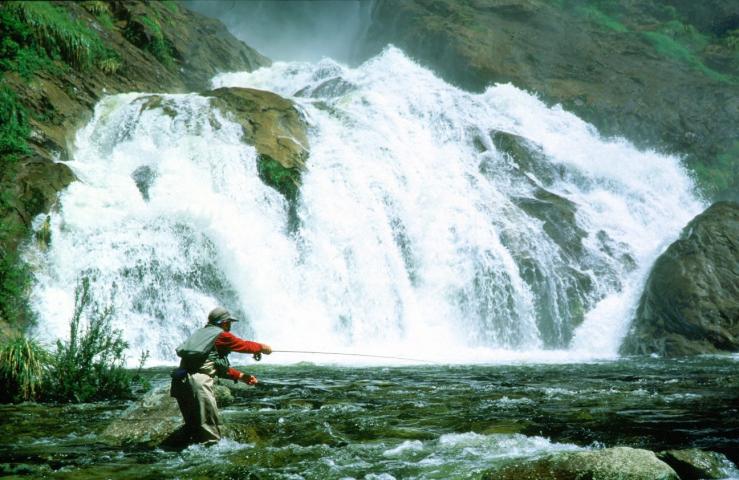 The most Southern latitudes of New Zealand offer a diverse range of waters from rugged freestone rivers through to spring creeks and lowland "match the hatch" dry fly fishing on meandering streams.
The Mataura River, being one of New Zealand's most storied fisheries, is famed for its prolific mayfly hatches and has a healthy population of predominantly medium sized brown trout.
Flowing out of Northern Southland the freestone Oreti River is well known for its large Browns whereas the nearby Aparima River holds a quality stock of mid to large sized Brown trout.
In the far West the Waiau River drains the Fiordland Lakes and contains both Browns and Rainbows in abundant numbers while the remote tributaries of Lakes Te Anau and Manapouri provide true wilderness angling opportunities in the clearest waters for large brown and rainbow trout.
All the members listed on this web site have the following vital accreditations:
Current first aid certificate
DOC Concession to guide on the DOC estate
Audited Health & Safety Plan
Public liability insurance
Michael Hartstonge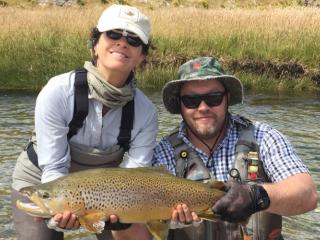 Michael may be contacted via email or phone +64 3 217 6060 or +64 27 486 2027
Contact Michael Hartstonge
Nick Reygaert
Nick Reygaert is the founder of Gin-Clear Media & Gin-Clear Travel.
For the last 15 years, he has carved out a career as a celebrated fly fishing film maker during which time he has traveled extensively in pursuit of the world's best fly fishing. He rates the NZ trout fishery as the most challenging and therefore rewarding fishery in the world.
He has called NZ home since 2003 and lives very happily in the trout paradise of Te Anau with his wife and son. As a proud member of the NZPFGA, let Nick share with you the best of the Fiordland and Southland region from day trips to multi-day adventures with heli-fishing options. Telephone: +64 3 249 8012
Contact Nick Reygaert
Brendan Shields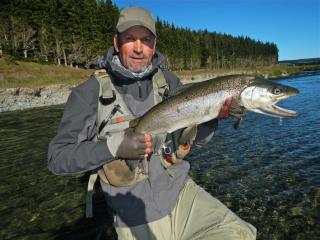 Born and raised in Southland New Zealand and based in Gore next to the famous Mataura River, Brendan specializes in sight fishing for Brown and Rainbow trout. Brendan has many years of experience in the pursuit of trout with dry fly and nymphs which he has developed at his vice. He also has an in depth knowledge of many Southern back country rivers and low land streams, many well known for their prolific hatches and healthy population of trout. Guided trips are tailor made for your fitness level and angling experience guaranteeing a memorable fly fishing adventure. Telephone +64 27 679 3664


Contact Brendan Shields
Quentin Donnelly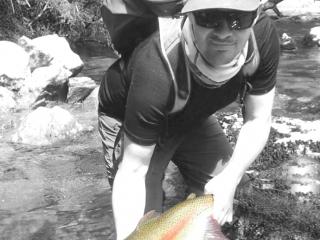 Growing up in Southland, Quentins formative years were spent along the banks of the Aparima River, or one of the many other world class waters in the province.
Quentin (or "Q" as he is more commonly known) was lucky enough to have a father who put a fly rod in his hands at a very young age, and in doing so has sparked an unrelenting drive to learn about every aspect of the sport.
The pursuit of the ultimate angling experience has seen him travel domestically and internationally chasing both fresh and saltwater species, as well as stimulating a successful progression to other aspects of the craft such as fly tying, rod building, writing and eventually guiding .
With medium size rivers such as the Oreti, Mataura, Aparima and the Waiau at his doorstep as well as the many other small streams and stillwater options available in the province he can cater for all skill levels, weather conditions and abilities.
For "Q" Southland and its fisheries optimise fly fishing in New Zealand, and he looks forward to sharing these truly special waters and their strong, selective, wild trout with you.
You can reach Quentin via clicking on the link below or give him a call on +64 27 204 6208
Contact Quentin Donnelly
Barry Perkins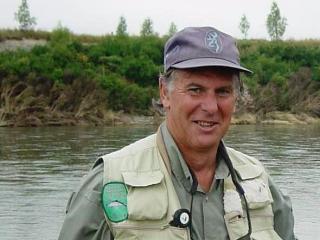 I'm Barry Perkins, a 4th generation New Zealander, and have lived and fished in Southland for the last 40 years, spending the first 20 years dairy farming close to the Mataura River. During this time I have gained extensive local knowledge of the Southland area and it's rivers, and I am confident I can show you some of the best fly fishing that you will find anywhere in the world. In 2001 we sold our farm and moved to Gore where and when I started guiding .
The Mataura River is world renowned for "Match the Hatch" fishing, however we are spoilt for choice, with over 25 other rivers and streams within one hour's drive from Gore.I live and fish locally and consider it a privilege to guide visiting anglers on the Mataura and other Southland Rivers. After living here for many years I know the rivers intimately, and friendships with local landowners allow me access to some epic fishing spots.I specialize in Dry Fly and Nymph fishing and carry two fully rigged rods for clients, one for Dry Fly fishing, the other for Nymphing, so that we can fish off the top whenever there are rising fish without me wasting your valuable fishing time re-tying flies.
Whether you are a beginner or an expert, I have loads of patience, heaps of local knowledge, and expertise to help you experience the thrill of landing a hard fighting wild brown trout from our uncrowded Southland rivers. I do not charge a deposit or cancellation fee. Very occasionally a booking may need to be amended or cancelled due to river or weather conditions. As this is no fault of either party, I believe the client should not be financially disadvantaged. I will always try to find clear fishable water, and with over 25 rivers within one hours drive, can usually do so. Telephone: +64 3 208 6476
Contact Barry Perkins
Graeme Watson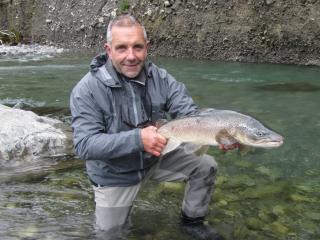 Hi, I'm Graeme, one of Southland Fly Fishing's experienced fishing guides.With over 50 years of fishing experience in the Southland and Otago region, I have a sound knowledge of weather,river conditions and where to find fish.
I'm a member of the New Zealand Professional Guides Association,Former Chairman of Southland Fish & Game Council and a Trustee on two Conservation Organisations. I'm also a retired Southland farmer and have a wide knowledge of the Southland area. Come and join me for a memorable fishing experience.Telephone :027430 1398
Contact Graeme Watson
Lloyd Smith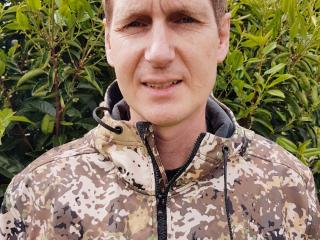 Lloyd is a passionate fishing guide based in Gore, being a local with 40 years fishing experience he has extensive knowledge of the many Rivers and Streams of the Lower South Island.
If you want to "Match the Hatch" on the Mataura or find that special Back Country or Lowland gem he will tailor a fishing experience personally to your requirements whether you are a complete beginner or a seasoned expert.
Lloyd is a patient guide with a great sense of humour, so contact him and let him share his knowledge with you. Telephone: +64 27 925 3135
Contact Lloyd Smith
Dean Bell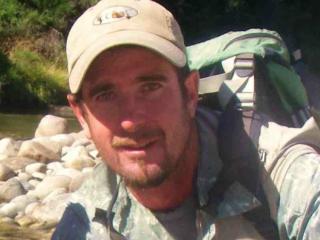 "Dean Bell has earned a reputation as one of New Zealand's best, if not the best, guides. His fishing advice defines the sport." - John Randolph, Editor-Emeritus , Fly Fisherman magazine.
Come and explore the vast fly fishing opportunities on offer in and around the Fiordland area with guide Dean Bell. Dean featured in the acclaimed Dead Drift DVD and is a leading New Zealand's fly fishing guide. Discerning anglers demand the best out of themselves, their equipment and most importantly their guide. Dean prides himself in maximising the angling opportunity for those he guides in an area he has an intimate knowledge of. Whether it be chasing trophy brown trout locally or spending multiple days in New Zealand's largest expanse of wilderness area, Fiordland National Park, any fly fishing itinerary to New Zealand would not be complete without time spent with Dean Bell. Making fishing dreams a reality since 1994. Telephone: +64 27 538 8897
Contact Dean Bell
Mike Dennis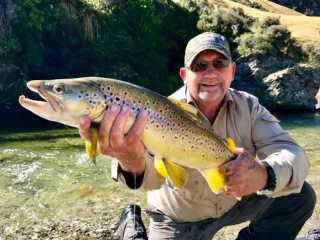 Come fish with me! I have been an avid angler all my life. Mixed with a passion for fly tying and having guided Southland and Otago the last 26 years, I have an intimate knowledge of the area and what the fish want. Not only do I enjoy fishing myself, I have a passion in seeing others partake in this wonderful sport. I cater for all levels and will accommodate accordingly. Various fishing options are available including Fly, Spey, Skagit, Switch, Spin and Lake fishing. I guide year-round on single or multi day trips. I thoroughly enjoy meeting people and sharing fishing knowledge, stories and experience. Let's make your day an enjoyable and unforgettable fishing experience together.
Telephone +64 21 02260283
Contact Mike Dennis
Daryl Paskell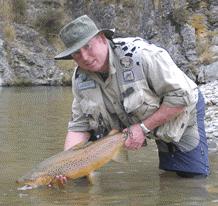 Daryl is part of the team at SOUTHLAND FLY FISHING GUIDES and has been a member of the NZPFGA for 10 years. Having fly fished since a young boy and having been brought up on the banks of the Upper Mataura River allows for a wealth of experience and local knowledge. Daryl specializes in sight fishing for both Brown and Rainbow Trout using Dry Fly and Nymph patterns created by himself on all Southland, Fiordland and West Otago rivers ranging from the remotest stunning back country streams to the beautiful slower moving lowland rivers. Come to Southland and let Soutrhland Fly Fishing Guides share with you a fly fishing experience second to none.
Contact Daryl Paskell
Chris Reygaert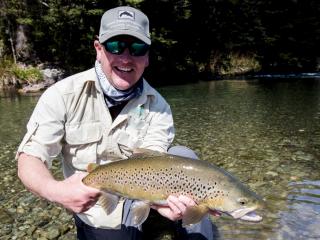 Chris has been a passionate angler all of his life. Since arriving in New Zealand Chris has spent every single waking minute exploring and getting to grips with this complex but incredibly rewarding fishery.
Working in the local fishing outfitting store in the off season keeps him on-the-pulse of the fishing scene, and there is very little fishing action that happens locally that Chris isn't privy to.
Chris caters for a wide range of angling opportunities. All trips are customized depending on your level of experience. Dedicated, professional and passionate - Chris is a perfect fit to guide you on your Fiordland Fishing Adventure.
Any questions or queries contact Chris Reygaert via the link below or call +64 22 453 6854
Contact Chris Reygaert
Kristina Placko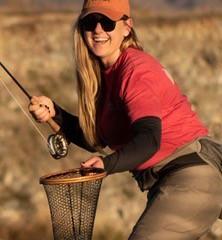 I believe fishing is for everyone, regardless of your age, gender or experience. My fishing life is a culmination of love and learning, places I've been and people I've met along the way - and that includes you!
Fishing is a lifestyle, so as your guide, my drive is to impart my knowledge, while we create a memory to last you a lifetime.
Please feel free to contact me and we can plan your guided fishing trip around the Otago and Southland regions.
- Kristina
Contact Kristina Placko