Rotorua & Taupo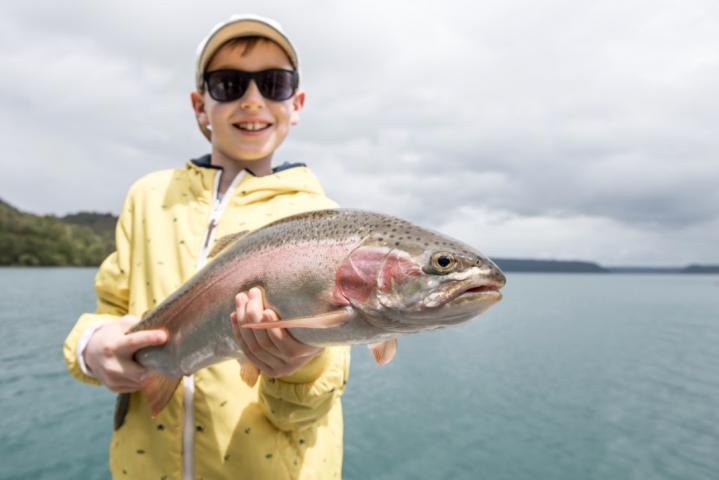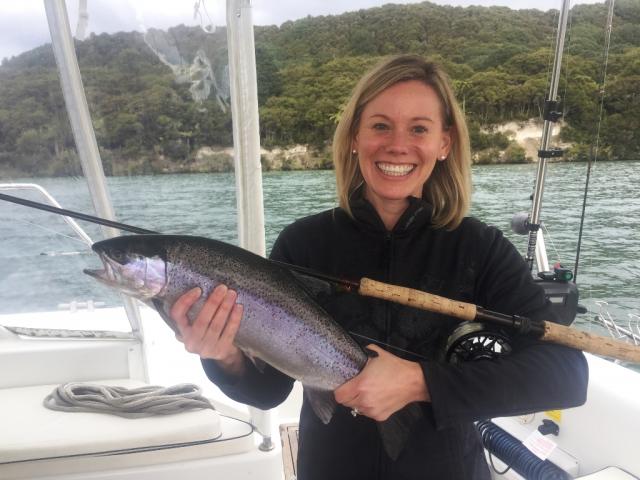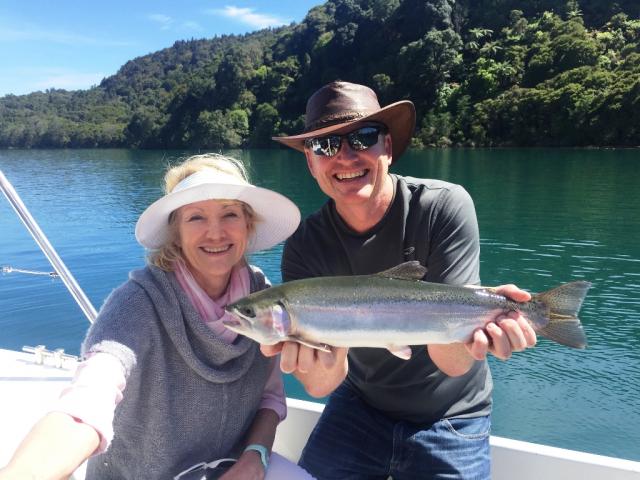 There numerous lakes that dot the region from ones formed by volcanic eruptions, blocked of valleys and hydro schemes. None are more famous than the lakes of the Rotorua and Taupo regions.Rotorua has 15 lakes all within an hour of the city centre, most have rainbows with some browns and with some having brook and tiger trout.
Lake Taupo is the largest lake in the North Island and is famous for the rivers that flow into and out of it as well as the rainbows and browns.Secluded scenic lakes like Waikaremoana and the hydro lakes add to the diverse fishing opportunities of the region.
All methods of fishing using artificial lures and fly's are allowed and bait is only allowed in a few locations. Boat fishing methods of trolling and harling with fly rods are preferred but during the summer months a form of jigging has become the most popular in the deeper lakes. Spin fishing is a great way to target fish along the lake edge margins. The region is famous for fish up to and in excess of the magic 10lb mark and give a great fight on the light tackle used.
The North Islands Rotorua Lakes enjoy a 'special' shoreline season, where trophy sized rainbows return to their release points as mature fish in the 8-15lb class. Perhaps the largest bows taken on the North Island each season. April thru July is prime time, and best of all they are fished for from the beach during the day and night and is suitable for complete beginners and experts alike
Most of the lakes are put and take fisheries and provide the best way to taste a wild trout. There is no trout farming in New Zealand so you have to catch one to have a trout served up on your evening meal. Most rivers are wild fisheries and since there is no stocking of fish most guides tend to practice catch and release to preserve the fisheries.
John Hamill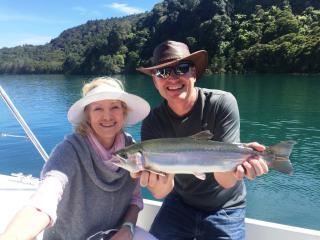 John and Cruise & Fish Rotorua are based on scenic Lake Tarawera. 15 minutes from downtown Rotorua you could be on our 35ft (10 metre) catamaran and having a chance tocatch one of these famous rainbows. We offer fly fishing,
jigging and trolling options or just a cruise and a chance to take in the scenic beauty of the lake and is suitable for all ages.
Lake Tarawera is a put and take fishery and since you cannot buy trout in New Zealand you can dispel the mud fish reputation with these deep water beauties. It has a unique option of having your trout cooked in the hot springs
(natures sous vide machine) of Te Rata bay and a soak in the natural hot pools on the lakes edge to add to your experience and a great way to have some family fun or share time with friends or work colleagues. This adds to our
options for fly fishing the rivers and streams of the region from Rotorua where we practice catch and release. You can reach John via his web site or call him on:+64 21 951 959
Contact John Hamill
Miles Rushmer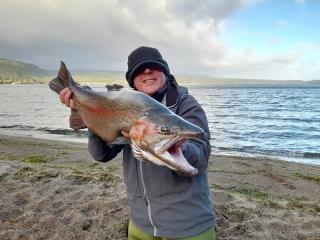 Miles specializes in both the summer stream mouth, and autumn shoreline trophy rainbow fisheries of the Bay of Plenty
High summer sees some of the shallower lakes in the Bay of Plenty heat up, sending huge numbers of rainbows and monster browns into the cold water spring stream mouths. Shallow wading flats fishing to large schools of trout has to be seen to be believed, with Jan/Feb/Mar being prime season. Suitable for the beginner to catch their first trout, or the expert looking to hone technique or target the monster browns.
Then in Autumn the trophy rainbows return to their release points in April/May/June/July. These are without doubt the biggest rainbows taken off the North Island each year. It is shore based fly fishing, usually from your deck chair on the beach, and can be described as completely relaxing, yet explosive, with fish up to 15lb's being encountered. Again, perfect for the beginner, or trophy hunter alike! May and June offer a shot at the "Full House" - with a trophy brown off the stream and a trophy rainbow off the shoreline in one day. Perfect option for a day off your cruise ship from the Port of Tauranga!
Contact Miles Rushmer