Canterbury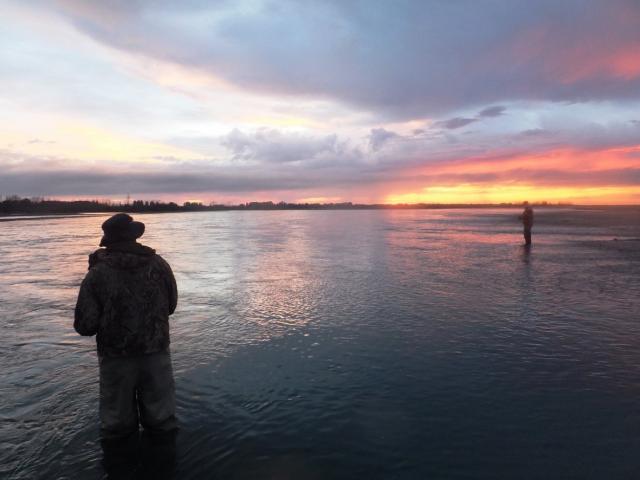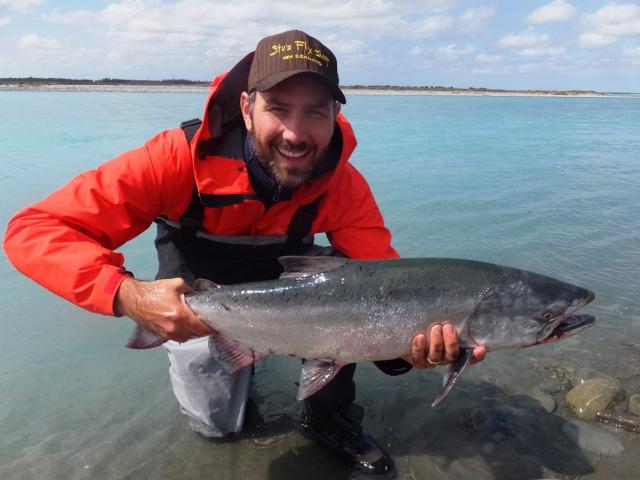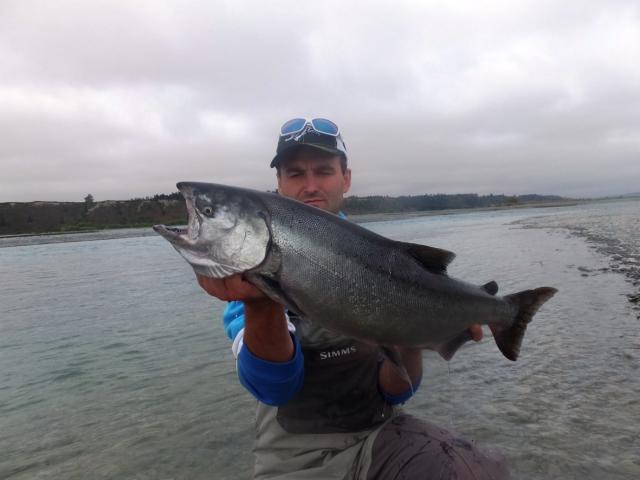 The Canterbury region is the oasis of salmon fishing in New Zealand. The long and unique braided rivers such as the Rakaia and Waimakariri Rivers provide anglers with endless kilometres of prime salmon water to explore. The wild Chinook (King) Salmon averaging 15lb, begin entering the braided rivers in November, beginning their migrational run upriver. For many local anglers this signals the start of an obsession referred to as 'salmon fever'.
Salmon continue to run throughout the fishing season until the end of April. Clusters of silhouetted fisherman are a common sight in the early morning light along Canterbury's braided rivers, all casting their spinning rods or swinging flies in hope of hooking one of these highly prized freshwater fish.
Neil Goldie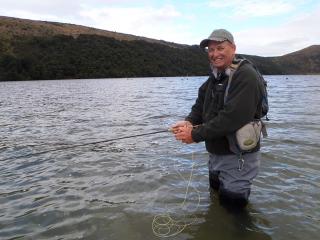 Neil Goldie is a trout and salmon fishing guide based in Christchurch which is located in the central South Island of New Zealand. Neil has been hunting, fishing and exploring the Canterbury and Westland wildnerness since the mid 1970's and has an intimate knowledge of the wildnerness fisheries and the East Coast sea-run trout and salmon fisheries. While Neil is a specialist flyfishing guide he also has a high degree of expertise in spin fishing and jigging for both trout and salmon. He specialises in sight fishing to large brown and rainbow trout in the rivers and lakes of Canterbury and Westland and caters for all experience levels of anglers, be they beginners or experts. Neil provides licences,lunches,light refreshments,4 wheel drive transport and can provide quality equipment such as G Loomis rods,Shimano reels,Simms waders and wading boots should clients require them. Fishing is available during the main season which starts on 1 October and ends on 30 April and the winter season which start on 1 June and ends on 30 September each year. Telephone: +64 27 210 2438
Contact Neil Goldie
Ben Haywood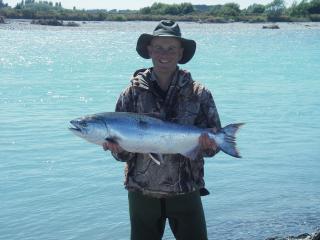 With the rugged Southern Alps of the South Island of New Zealand as a magnificent backdrop, enjoy catching wild Chinook (King) salmon averaging between 5kg (12lb) and 11kg (25lb) in the very scenic and unique braided rivers of Canterbury.
Canterbury is the main salmon fishing destination in New Zealand and a haven for salmon fishing trips, with the top 4 plentiful rivers less than 90 minutes from Christchurch International Airport. The salmon arrive from the Pacific Ocean and begin their spawning run, usually starting in November and continuing to run through until approximately the end of April.
Your fishing guide, Ben Haywood, is based in Christchurch and specialises in catching Chinook salmon on both light spin tackle and the fly. He offers tailor made single and multi-day fishing trips suitable for all abilities. Ben prides himself on delivering an outstanding fishing experience to remember. He uses his extensive knowledge to locate prime salmon holding water which ultimately gives clients the optimum chance of successfully hooking salmon. Contact Ben on +64 22 323 3966.
Contact Ben Haywood