Bay of Plenty
The Bay of Plenty coastline stretching from the Coramandel Peninsula through to the East Cape is New Zealand provides endless options and opportunities to the keen saltwater fly fisherman. Ohiwa and Tauranga harbour make up the inshore fisheries, popular recreational fishing areas for New Zealander's. Of most interest to the saltwater fly fisherman is the snapper, kahawai, silver trevally and the yellowtail kingfish, New Zealand's saltwater fly fishing premier fish. The last few years has seen the emergence of true world class saltwater fly fishing scene that has gained a lot of international interest thanks to the elegant yellowtail kingfish.
Tauranga Harbour the most popular saltwater fly fishing location in the Bay of Plenty, with plenty of the terrain that kingfish use to ambush their next meal. The kingfish are known to cruise the shallow flats looking for bait fish that try find refuge in the sea grass patches found throughout the flats.
Kingfish have the tendency to follow stingrays around using the cloak of disguise to get close enough for a successful strike on the local bait fish that are typically mullet, herrings, juvenile kahawai, mackerel, flounder and kingfish candy- the piper. The black stingrays make it easier for the fisherman to locate the kingfish, with good conditions you can spot the stingrays over 100m away. Structure in the form of steep channel margins and the navigational buoys are also good places to target kingfish at certain times of the tide.
Kingfish can be caught on both wet fly bait fish imitations and also on the surface using crease and popper flies with tippet typically 20 to 30lb. Be prepared for aggressive strikes of the fly and long powerful runs well into your backing. Thankfully most areas of the harbour have large areas of sand with very little chance of breaking off around structure.
The Bay of Plenty and Rotorua District of New Zealand also has great freshwater fly fishing for both rainbow and brown trout to supplement the fantastic saltwater fly fishing.
Julian Danby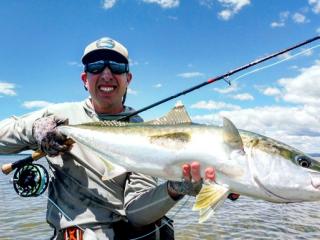 Julian Danby, owner of Rotorua Trout Guide has included salt water fly fishing to the options currently offered in the freshwater. Bay of plenty is home to multiple harbours that are home to abundant fish life, notably kawahai, Silver trevally, snapper and the premier of New Zealand's saltwater fly fishing scene, the yellowtail kingfish.
Recent years has seen the emergence of a true world class saltwater fly fishery in New Zealand. Its hard not to get excited sight fishing for kingfish in shallow water around the edges of the harbours. Known for their intelligence, power, explosive speeds and guile in combination with the elegance these fish posses makes the yellowtail kingfish a true trophy for the fisherman.Julian can be contacted on +64 27 339 7468
Contact Julian Danby