Upper South Island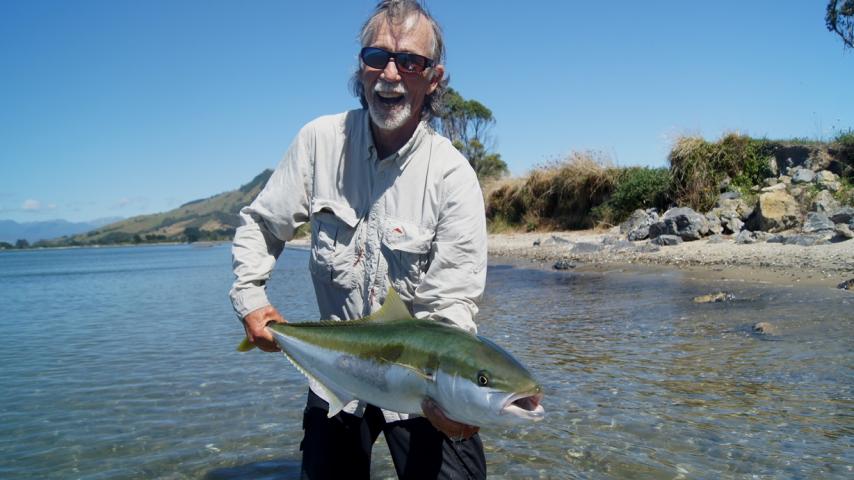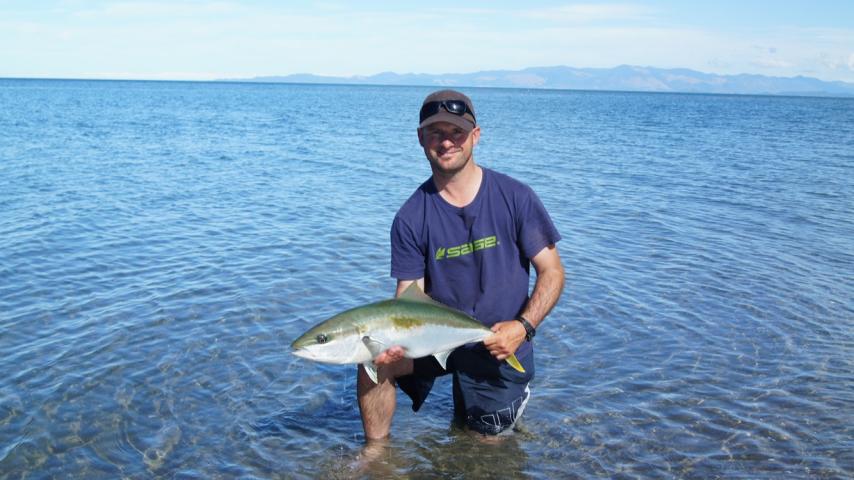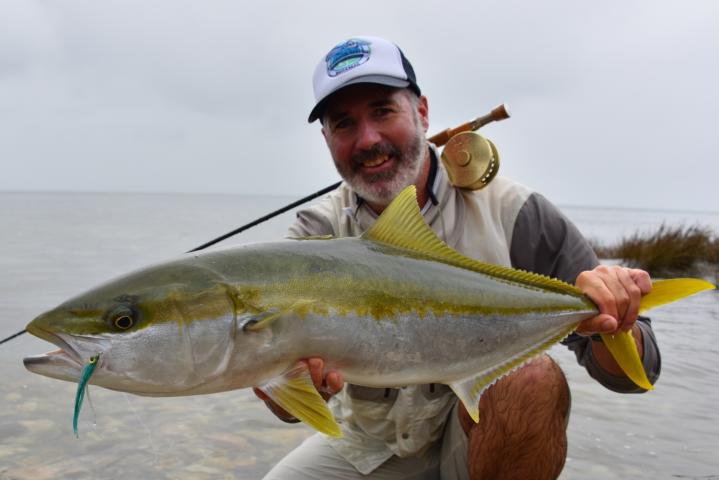 The top of the South Island of New Zealand offers many fine opportunities for the saltwater fly fisherman. Many quality species are available to be targeted on the fly. The top shallow water predator is the super aggressive Yellowtail Kingfish. They are present throughout the summer months (December > March). These can be targeted wading the large flats in the North Western parts of the Island. Also they can be tempted by fly around any structure such as reef or mussel buoys.
On the flats the best way to target them is to find the large stingrays as the Kingfish tend to follow the stingrays around to ambush their prey. Kingfish offer possibly the best sight fishing in saltwater on fly in New Zealand and the Nelson region has an outstanding fishery. Kahawai are available year round and pound for pound offer up a fantastic fight. They take surface flies like small poppers and make strong runs and jump often. A similar size to Bonefish but with the jumping prowess of a Tarpon.
On occasion Silver Trevally can be sighted while stalking to the flats for Kingfish. Like all Trevally these stunning fish fight until the bitter end. They are far more shy than their tropical cousins the Giant Trevally and prefer to take a crustacean pattern such as a crab or shrimp than a baitfish imitation. There is still much exploring to be done in terms of saltwater fly in the top of the South Island, species like Snapper and Albacore Tuna could realistically be targeted. So if salt runs through your veins take the opportunity to supplement your trophy brown trout fishing with a day or two of stalking the flats.
Zane Mirfin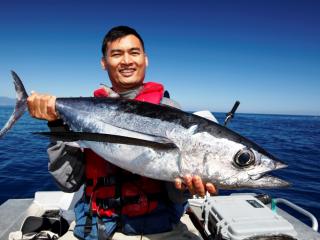 Few anglers understand the marine fishery of the northern South Island like guide Zane Mirfin. Being a sixth-generation Nelson-based angler Zane has an unmatched repertoire of special locations, local access connections, and specialist knowledge that is highly valuable to visiting anglers.
Zane Mirfin holds a current skippers ticket (SRL) that allows operation in all inshore waters and our commercially surveyed 4.1 metre aluminium pontoon boat MNZ 134307 is ideal for guiding 1 or 2 anglers to a full range of lakes, lagoons, estuaries and coastal blue water opportunities. With up to 40 saltwater fish species available, our anglers catch yellowtail kingfish, snapper, albacore tuna, trevally, kahawai, barracouta, blue cod, red gurnard, tarakihi, mackerel, groper, sharks, flounder, warehou, wrasse, dory, squid, and many more...
Specialising in multi-day fishing trips we fish throughout Tasman Bay and the Marlborough Sounds, and highly recommend the fish-rich areas of Delaware Bay and Okiwi Bay.
Wade fish or stand & cast up-front in our highly stable pontoon vessel that is silently propelled by an auxiliary electric motor. Zane's Golden Bay base is Rangihaeata, near Takaka township, close to fine dining, bars, cafes and many accommodation options at days end.
Contact Zane Mirfin
John Gendall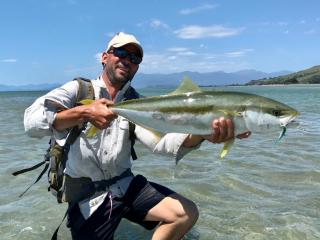 John Gendall flyfishing SALT WATER!
Looking for an additional challenge from chasing big trout? Try big Kingfish!
The Kingfish is commonly regarded as our most revered inshore sport fish. John Gendall Fly Fishing is excited to offer you some of the finest salt water flyfishing you will find anywhere in the World, right here in the top of the south Island we have a true world-class salt water fly fishery. Where else can you stalk the flats for big kingfish one day, and the very next stalk trophy trout in the cold, clear mountian streams?
Wade the flats and site fish to Kingfish and Kahawai. Kingfish can be seen riding stingrays, bow waking and even tailing in the shallows as they swoop on crabs, flounder and bait fish that the stingrays dissturb.These kingfishing are up to 30lb, very agressive and rip line, plenty of backing and a strong forearm is essential. Kahawai cruise the shallows busting up endless shoals of bait fish, these fish really snatch at the fly, jump repeatedly and fight as hard as any... pound for pound.
John has been working diligently to find ways to tackle these fantastic fish in a wide variety of new locations. John's sharp eye, extensive knowladge of the flats, tides, weather and fish movements ensures you the best opportunity at hooking one of these magnificent fish. John's knowledge also ensures your safety of the flats, tides moves quickly and stingrays can cause harm.
"I have salt water fly fished for; Tarpon, Permit, Bonefish and trevally. Kingfishing is a visually exhilarating form of Salt weater fishing and up there with anywhere else I have fished in the world".
It really is the best all round sight fishing experience.
The best time of year to fish the flats is December through to April.
Advisable gear:
9 or 10 weight rod
9 or 10 weight saltwater reel with at least 200m of backing
sinking tip saltwater line
Flats boots, gloves, light weight shorts, wading wind jacket
I can provide gear if need be.If this sounds like something you'd like to try, please get in touch to organise a tailored New Zealand fresh and salt water experience. You can contact John via his web site (click below) or call him on: +64 3 548 7892
Contact John Gendall