Central North Island, Taupo & Turangi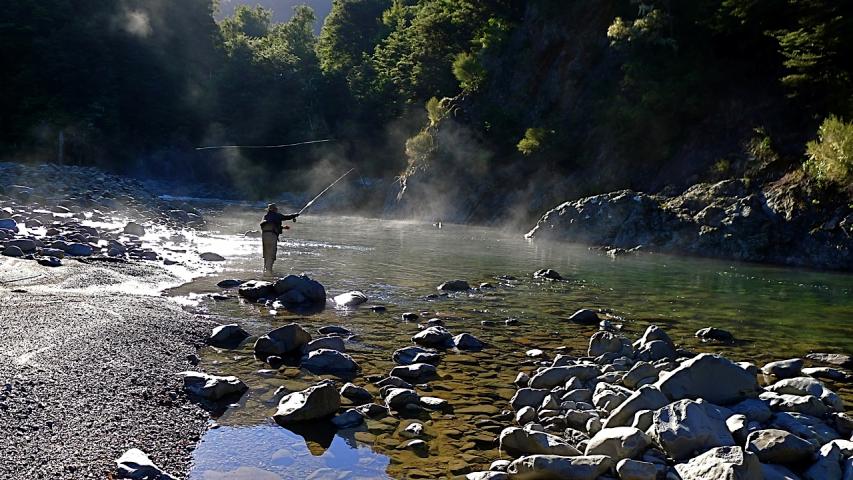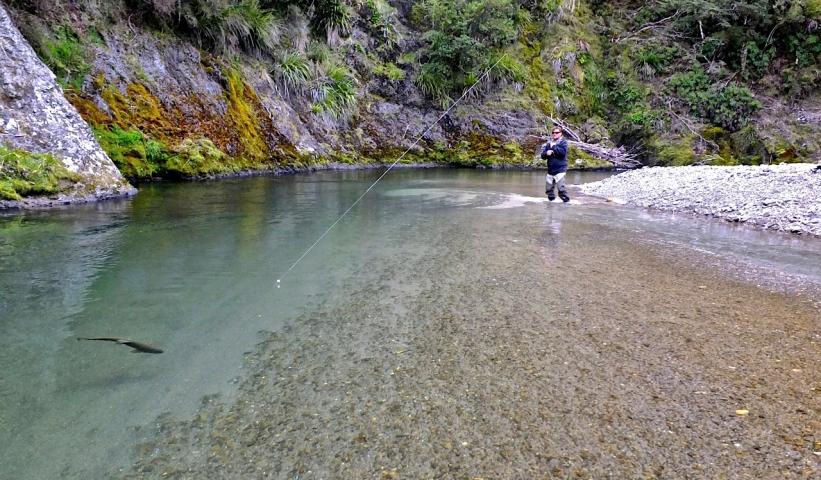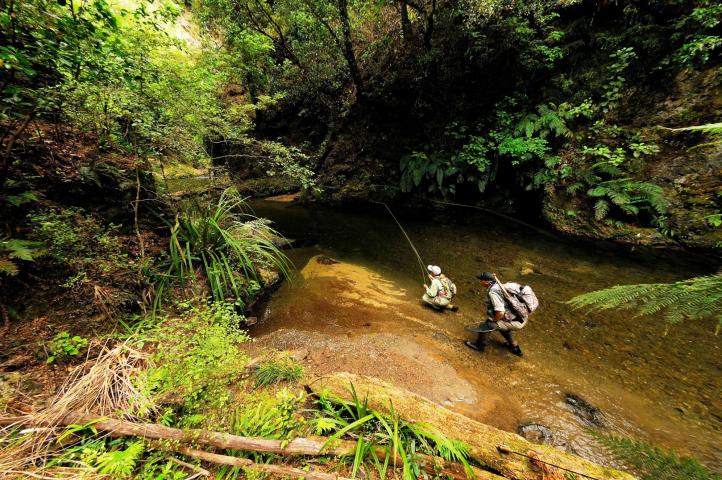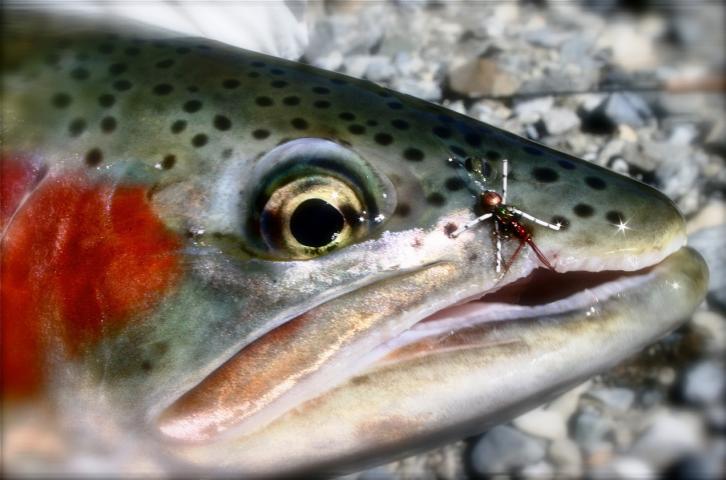 The Taupo / Turangi region is world famous for having the largest fresh water lake in the Southern Hemisphere. Surrounded by the volcanoes of the central north island, the Tongariro National Park and the Kaimanawa Mountains the region is a very popular outdoor recreation area.
In the summer the Central North Island is popular with anglers because of the great wilderness rivers accessible by helicopter such as the Rangitikei, Ngaruroro and the Mohaka which provide world-class dry fly and cicada fishing.
In the winter "Steelhead" trout run the rivers in large numbers and rivers such as the Tongariro river are very popular with fisherman. Made famous by anglers such as Zane Grey and the Queen Mother this region is a popular fishing destination with lots of fishing lodges and guides.
All the members listed on this web site have the following vital accreditations:
Current first aid certificate
DOC Concession to guide on the DOC estate
Audited Health & Safety Plan
Public liability insurance
Steve Yerex
Steve Yerex has been fly fishing in the Central North Island for fifteen years. Based in Taupo, he specialises in Brown Trout and Rainbow Trout fly fishing, both summer dry fly action and winter steelhead runs. He is able to provide back country heli fishing, and as a senior trip leader single or multi-day raft fishing trips, as well as wade fishing. He can provide riverside accommodation on the Tauranga-Taupo River, and can supply all equipment as needed. Beginners and knowledgeable fisherman alike will enjoy the experience.
Contact Steve Yerex
Derek Nees
Derek is based in Wellington and fishes the many rivers close to our capital city. Contact Derek via telephone him on :+64 7 384 2080
Contact Derek Nees
Kunio Onishi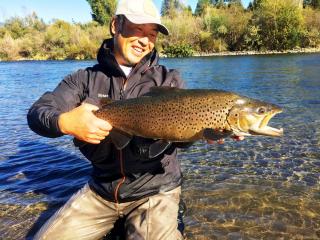 Kunio is the first, and only FFI certified casting instructor in the Central North Island.
He is one of the most passionate flyfishers and fly tiers known. Kunio was born in Japan, spent most of his 20's discovering new water and great locations in New Zealand and ultimately decided to put down roots in Taupo. He enjoys sharing his knowledge and the latest techniques to catch the fish of your dreams.
He is also known as a Spey casting instructor. If you would like to reach another world of fly fishing...swinging big flies on the big rivers like Tongariro, he is the man to contact!
Telephone: + 64 7 378 9366
Contact Kunio Onishi
Jim Rainey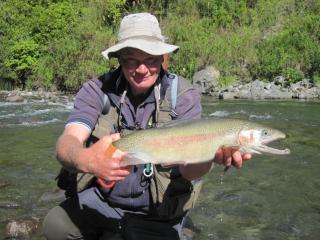 Jim's business is based in a small town called Mangaweka which is on the edge of the world famous fly fishing Rangitikei River. Jim and his wife Ruth own a farm and Jim guides the many rivers in the area during the summer months. Jim has been guiding for 20 years and started Green Trout Guiding 15 years ago. He has been a member of NZPFGA for 10 years.
He offers on-foot guiding, rafting and helicopter options along with multi day camp outs with either the raft or helicopter. All fishing/camping gear is supplied if needed and a satellite phone carried on all multi day trips. Jim is a qualified Grade 3 river guide and has rafted the Rangitikei River extensively for the last 20 years.
Sight fishing to browns and rainbows with a dry fly is the ultimate experience for Jim and he will work hard to get you onto some of those fish. You can contact Jim at either raineys@xtra.co.nz or +64 6 3825507 or visit his web site
Contact Jim Rainey
David Wood
David Wood is based in the central North Island. This location gives him a wide range of opportunities for his clients. From fishing the multitude of rivers that feed Lake Taupo with it's large Rainbows and unbelievable river run Browns, to Mountain river and stream fishing in the Kaimaniwa's, Urewera's and Kaweka's. These crystal clear blue ribbon waterways are accessed by 4X4, Raft, or Helicopter. You can expect to encounter the "water of dreams", with opportunities to cast to truly magnificent fish in an area of unspoiled splendour. Backcountry overnight trips a speciality. Outfitting and a range of accommodation available. Contact Dave via the enquiry button below or call him on +64 21 2147 271
Contact David Wood
Sean Andrews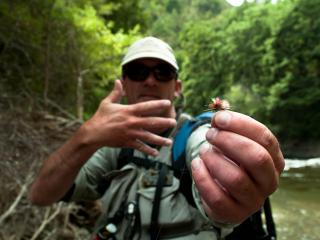 Contact Sean Andrews
Bryce Curle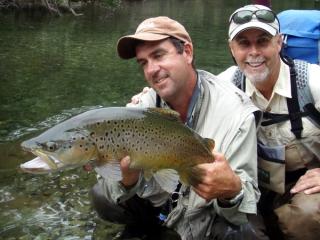 Bryce has been guiding in the Taupo/Turangi and Central North Islands abundance of streams and rivers since 1998, with options to cater for everyone from the beginner to the experienced angler who may want to experience the more remote and pristine streams and rivers either by 4x4 vehicle, helicopter or hiking, sight fish to wild and hard fighting rainbow and brown trout.
To find out more please look at Bryce's web site contact below. Telephone: ++64 272049401
Contact Bryce Curle
Peter Wilton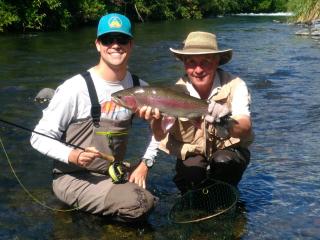 At the age of nine I made my first ever cast into the turbulent waters of the Tongariro River, the raw power of her thundering green rapids was intimidating. The whole scene completely absorbed me. Second cast a five pound rainbow struck on the swing ripping line from my frozen fingers. Little did I know the impact that particular moment would have on my life. I was completely captivated; immersed in the river's magic. Fifty years on, that fascination still lingers and I remain addicted, absorbed in the rivers grandour. Fly fishing in New Zealand rivers isn't just a sport, it's a passion that consumes you and over the last twenty years I've been fortunate to be involved not only as a guide, but also as a fishery ranger and trap operater working for the Department of Conservation who manage this great fishery. Summer sees my passion extend beyond the Taupo rivers to our majestic wilderness rivers that border our region. Stalking wild browns and rainbows with nymph or dryfly in a sunlit gorge is a unique New Zealand experience. I invite you to share this passion and join me on an adventure of your choice, whether you're an experienced or novice angler, there's a river just waiting for you.
Contact Peter Wilton
Brian Willson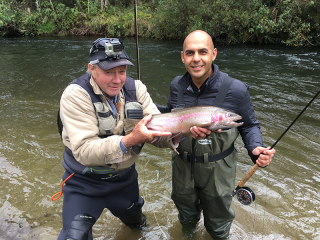 Fishing has been a passion of mine for more than 50 years. During that time I have had some wonderful experiences fishing Lake Taupo and the rivers and streams that flow into it. I am here to share my experience and love of fishing with you. Catering for all levels, from beginner to experienced fisherman, I am able to tailor a fishing experience that best suits you. My wife Sharen and I also offer homestay accommodation at our large modern home in Rangatira Park, close to Taupo town centre. Introducing others to fishing and sharing some of the great local spots I have found over the years is something I really enjoy. I look forward to taking you on a memorable day of fishing in this most beautiful part of New Zealand. For more information about me and how you can have a wonderful outdoors experience click on the link below to go to my web site or call me free on +64 216 67867. Tight lines! Brian Willson
Contact Brian Willson
Chappie Chapman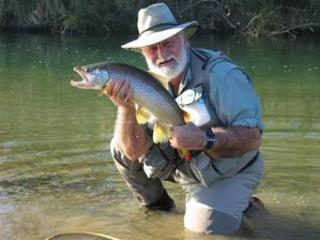 So to all my friends and clients past, present and future. It's time to move on and leave the South Island to take up a new life in the Central North Island.
I am based now in Turangi on the banks of the fabled Tongariro River. The American author Zane Grey described this river and the surrounding rivers and lakes as an "Angler's Eldorado" I am going back to where it all began for me and has continued most years for as long as I can remember.

Here there is both summer dry fly and nymph fishing in the traditional way (some sighted fishing too), and winter fishing with nymphs and swinging wet flies and streamers with both two handed and single handed Spey rods.
I have two internationally recognized qualifications for teaching fly casting.
All equipment, (top quality Sage rods, reels and Rio fly lines together with Simms gortex waders and wading boots) and sumptuous lunches and drinks, are provided.
A good few years ago, I attained the status of "Old Fart" and although I cater to all ages I specialize to those anglers who find the rivers a little deeper and swifter than they used to and the wading a little more difficult. Let me turn your dreams into reality. Contact number (+64) 0274 393 490
Contact Chappie Chapman
Craig Aspinall
On leaving school I trained as a carpenter in Wellington, when work moved me to Taupo for a few building projects. Then in the late 80s, I teamed up with my brother Mark Aspinall to guide in the Taupo region. After building up my guiding experience my brother introduced me to Poronui lodge in the early 90s where now I do the bulk of my guiding during the summer fishing season. I am currently the longest serving guide at Poronui and enjoy seeing my repeat clients each season. I have always been loyal to my brother's guiding business where I occasionally team up with him to do some local guiding and back country fishing trips with his clients. We look forward to continuing to do for many years. When I am not working I enjoy: fly tying ,sea fishing,trout fishing, diving and keeping fit.
Contact Craig Aspinall
Jason Bethune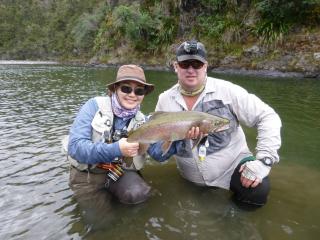 Got my first fly rod & fly tying kit at the age of 9yrs and it really did start something. To say i love fly fishing is the understatement of the century finally after yrs of fishing and farming in the Taupo area. My wife & i brought a fishing lodge in 2010 (Troutbeck Fishing Lodge) and started guiding which has became another real passion. There is nothing more satisfying than helping othes achieve their dreams. These days my wife & I own & run the legendary Creel Tackle House & Cafe (The oldest flyfishing shop in NZ). Jason guides from there which is on the banks of the famous Tongariro River. Jason offers dryfly/nymph/euro & swinging wet flies all over the Central North Island. He offers heli fishing / raft fishing/ quad bike fishing over many famous rivers he also has a great love for the mighty trophy Lake Otamangakau. He really prides himself on clients not only catching fish but having a real good day. Telephone: +64 27 600 6344
Contact Jason Bethune
Tim McCarthy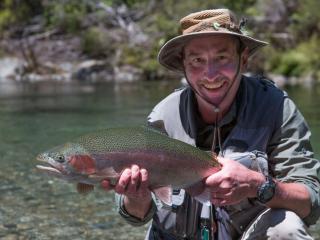 I first fly fished the Tongariro River when our family moved to Turangi in the 80s. At this time I was still in High School, occasionally cutting class to go fishing. After finishing school I started guiding with my father in 1984 as well as working the Turangi Fly Shop. During the early 90s I started guiding for Tongariro Lodge where I have been Head Guide since 2001.
Tongariro Lodge provides the ultimate New Zealand fly fishing experience and caters for all levels of fishing ability - from novice anglers to seasoned veterans. Our team of guides are recognized as one of the most dedicated guiding operations in New Zealand. We specialize in the rivers and lakes of the central north island using 4X4, rafts and helicopters to get you to the best trout fishing we know of.
Contact Tim McCarthy